Why Choose Air Source:
Lowers your fuel bills

Can heat home & water supply

Easier & quicker to install than ground source

Reduces your carbon emissions

Payback through Renewable Heat Incentive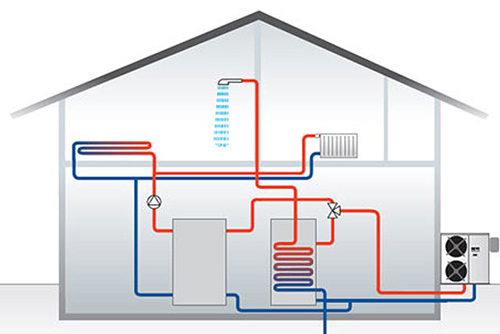 Saving the planet
Air Source Heat Pumps are a really effective way of heating your property while also doing your bit for the planet. An air source heat pump works like a fridge in reverse. They take the cold air from outside and then the pump compresses the air in order to increase it's temperature. This heated air is then sent to your radiators or underfloor heating, and any excess can be used to heat your water supply.
"Kevin and his team were professional, polite and courteous at all times. I was informed of any additional work required prior to it being undertaken. They even left my offices cleaner than they found them!"
Sarah Wynne, Wynne and Co.
Saving you money
Air is a natural and renewable resource, whereas electricity, oil or gas is incredibly inefficient, so by changing how you heat your home you can really make a difference.
Because of this, the Government will compensate you with a Feed-in-Tariff, which means you will get paid for ever Kw of energy you produce for 7 years. So, not only will you be saving money on your energy bills, but you will also get paid by the Government for using it! Which ultimately means, more money in your pocket!
Air Source Heat Pumps are also cheaper to install than Ground Source, as well as being less disruptive. Where you would need to dig up your garden to install a Ground Source Heat Pumps, with Air Source, they are much easier and quicker to install.