Home automation combines a range of technologies to make your home 'smart' – meaning you can program it to react automatically to suit your lifestyle, and control devices via your phone, no matter where you are.
Here are four of our favourite ways to use smart home technology…
Light switches are old hat
A home automation hub allows you to control your lighting, all over the house based on preprogrammed commands or directly from your mobile device (you can still use a wall switch if you really want to though!).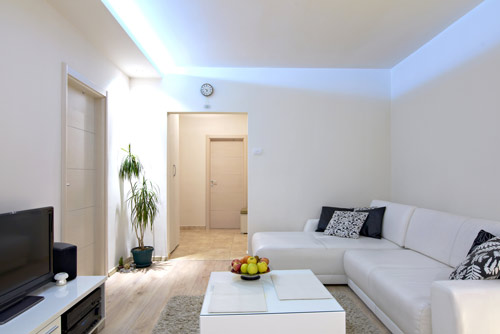 The systems are really flexible: you can automate your whole home, or simply jazz up a particular room; use simple white bulbs or choose a lighting pattern that can produce different levels of light and colour to give a real sense of ambiance to suit your mood. Here's a few ideas that you can set up:
Imagine pushing a  button to have all the lights in the room automatically set themselves to create the perfect cosy and warm feel on those cold winter nights
Have your lights automatically come on gradually to maintain light levels as the sun sets
Use motion sensors so that lights come on at 20% when they detect movement – it will keep the room dim, but give you enough light so you don't bump into things
Turn off all the lights across the house with the press of a single button
Have lights come on automatically when your open the front door
Ultra efficient heating
You've seen the adverts, you know you can control your heating from your phone, but what does that actually mean?
Well automating your heating is not only a fancy way of turning your heating on and off – or amending the temperature from your mobile, it's becoming a household essential that can save you significant amounts of money in the long run.
With ever increasing energy pricing, home automated heating allows you to optimise exactly what energy you use to heat your home. If you are off on holiday, or away from the house all day and don't need it on, you can easily, from your phone, turn your heating off or down to a more efficient level, reducing your fuel costs dramatically. The other added bonus is that you can see exactly how much energy you are using, allowing you to regulate and control how much you use, instead of just seeing it at the end of the month in a bill!
Many of these systems also come with geo-location tracking – these automatically adjust your heating based on whether you are at home or not.
Supercharge your security
Improving security is another great reason to invest in home automation. Creating a single system that can control door locks, CCTV, fire and burglar alarms, smoke and carbon monoxide detectors can provide you with the peace of mind and let you oversee exactly what is going on with your home – no matter where in the world you are.
Automatically stream video of who's at your door to your phone or tablet when the doorbell is rung
Create a special one time code to allow friends access to your house in an emergency
Automatically lock the house and alarms when you're not close by
Or if a security breach is detected, programme every light to come on, lock the front door, all curtains open and have your TV display the feed from CCTV cameras
Set up entry codes for each family member – and get notified when your children get home from school
Celsius can design a complete system, ranging from automated locks and surveillance cameras to home alarms and smoke detectors.
Entertaining TV and Music
Control your entire home entertainment system from anywhere. Connect your TV, speakers and computer together to create the perfect entertainment system for any situation. Linking up systems across your home means you can have sound in every room, connected as one system, without the need for visible wires.
Combine this with automated blinds or curtains and lighting  allows you to transform your room into the ideal relaxation zone, or entertaining space, at the touch of a button.
Pick your choice of movie and hit play – and have your curtains draw, lights dim, and TV & sound system set themselves to the perfect levels – even have the TV screen magically appear from a hidden ceiling or floor cabinet.
Increase lighting levels by 30% whenever you push the pause button
Create the perfect party vibe – with programmed playlists, lighting patterns music and video synchronised throughout your house
Just the start
There's all sorts of other features available from home automation systems and smart devices – from setting your oven so it's ready to start cooking as you get home, to letting you know that your drinks cupboard's been opened – your imagination is the limit to what can be achieved.
What you want your smart home to do? Let us know your ideas.
Ready for home automation and want to find out more? Give us a call on 0330 010 9009, and our experienced team would be more than happy to help.